Support Acupuncture for Our Seniors Act
5 Easy Steps!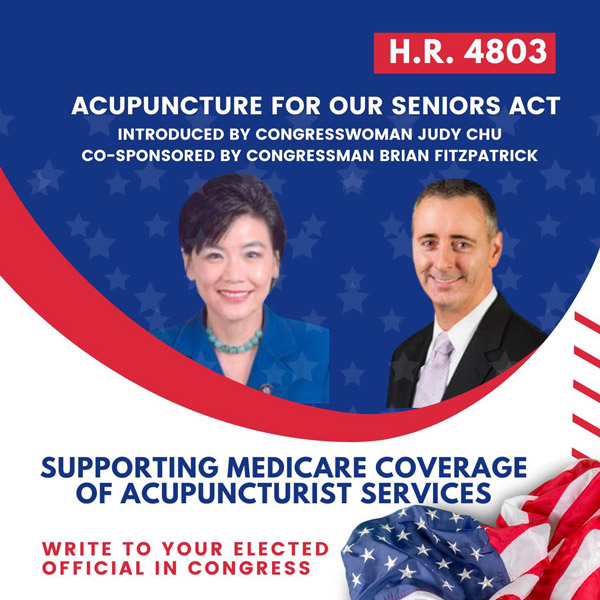 H.R.4803 - Acupuncture for Our Seniors Act of 2021 is introduced by Representative Judy Chu (D-CA) and co-sponsored by U.S. Representative Brian Fitzpatrick (R-PA) 2022. Read more: 4803-Factsheet
H.R. 4803 would authorize the U.S. Centers for Medicare and Medicaid Services to recognize qualified acupuncturists as healthcare providers. Medicare recognition would enable qualified acupuncturists to provide covered services to Medicare beneficiaries—over 60 million Americans.
To contact your U.S. Representatives to show your support for H.R. 4803, please follow the steps below:
Read the letter template below

Click the red "Start Here" button to fill in your personal information, we will find your U.S. Representative for your convenience

Sign the letter with your formal name (use the cursor if on a computer, use your finger if on a mobile device)

Read the "Agreement of Release Form" and check the respective box

Click the "Submit" button to finalize your support
We will create a PDF letter based on your response and submit your letter to American Alliance for Professional Acupuncture Safety (AAPAS). AAPAS will send the letter to your elected official in congress directly on your behalf. The signed letter will be emailed to you for your confirmation and records.
Support the H.R. 4803-Acupuncture for 

O

ur Seniors Act
The honorable Representative_______
I am a voter who resides in your district.
Centers for Medicare and Medicaid Services (CMS) began covering acupuncture for chronic low back pain in January 2020. However, unfortunately we need to pay out of pocket for the treatment fee and are unable to get reimbursement from the CMS, because the qualified license acupuncturists are not listed as healthcare provider within the CMS system.
The H.R. 4803 would authorize CMS to recognize qualified acupuncturists as Medicare providers, as well as enabling acupuncturists to bill Medicare directly for their services. So over 60-million Medicare beneficiaries could have direct access to acupuncture treatment from the most qualified providers of acupuncture service.
Evidence-based research have proven that acupuncture is a safe, effective, economical treatment for pain. Acupuncture therapy can effectively reduce the dependency and abuse of opioid analgesics in patients with pain syndrome, thereby reducing the related serious social problems.
My family, my friends and I have been helped by acupuncture treatments. If we can help more people benefit from acupuncture treatment, it will be a very meaningful achievement. So please support Judy Chu's bipartisan H.R. 4803 bill to make licensed acupuncturists Medicare providers and benefit more people in our district and beyond.
Thank You!
Print Name: ___________
Address: _____________
I hereby express that I fully understand the above and authorize the uses, disclosures and re-disclosures of my testimonial and the specific information as set forth above with legislators, lobbyists, policy makers, acupuncture organizations or the public, only to promote the HR 4803, and to encourage the acupuncture in seeking legislative and other changes as well as any other promotional or educational purposes.
Signature: _______
Date:_______
We thank you for your participation, your support will improve the health and quality of life for seniors and their families.